A buyer's guide to Morganites
Morganite is a popular gemstone for use in jewelry, especially in engagement and wedding rings. It is known for its delicate peach to pink color, which is created by the presence of manganese in the crystal structure. 
WHAT IS A MORGANITE?
 What is a Morganite? Morganite is a rare and precious gemstone that belongs to the beryl family of minerals, along with emerald and aquamarine. It is a pink to peach-colored gemstone that is known for its delicate and feminine hues.
FACTORS TO CONSIDER WHEN BUYING A MORGANITE
When buying a morganite, there are several factors to consider, including the color, clarity, cut, and carat weight. Here are some details about each factor:
Color: The most desirable morganites have a vibrant and even color with a strong pink to peach hue.
Clarity: Morganites are often included, and it is rare to find a completely flawless stone. Look for a morganite with minimal inclusions that don't affect its beauty or durability.
Cut: The cut of a morganite can greatly affect its brilliance and fire. Look for a stone with a well-proportioned cut that maximizes its light reflection.
Carat weight: Morganites are available in a range of carat weights, and the price increases with the size of the stone.
MORGANITE JEWELRY STYLE
Morganite is a popular choice for engagement rings, but it is also used in other types of jewelry, such as necklaces, earrings, and bracelets. Popular styles include solitaire, halo, and three-stone designs. Morganite is often paired with rose gold or yellow gold to enhance its delicate pink to peach hues.
MORGANITE
 CARE AND MAINTENANCE
Your Morganite engagement ring is a relatively durable gemstone with a hardness rating of 7.5 to 8 on the Mohs scale, but it is still prone to scratching and chipping. To care for your morganite jewelry, avoid exposing it to harsh chemicals or high temperatures, and store it in a separate compartment to prevent scratching. More about cleaning
MORGANITE
 PRICE
The price of a morganite varies depending on the quality of the stone, its size, and the design of the jewelry. In general, morganite is less expensive than other gemstones, such as diamonds or emeralds, but larger, high-quality morganites can still be quite valuable.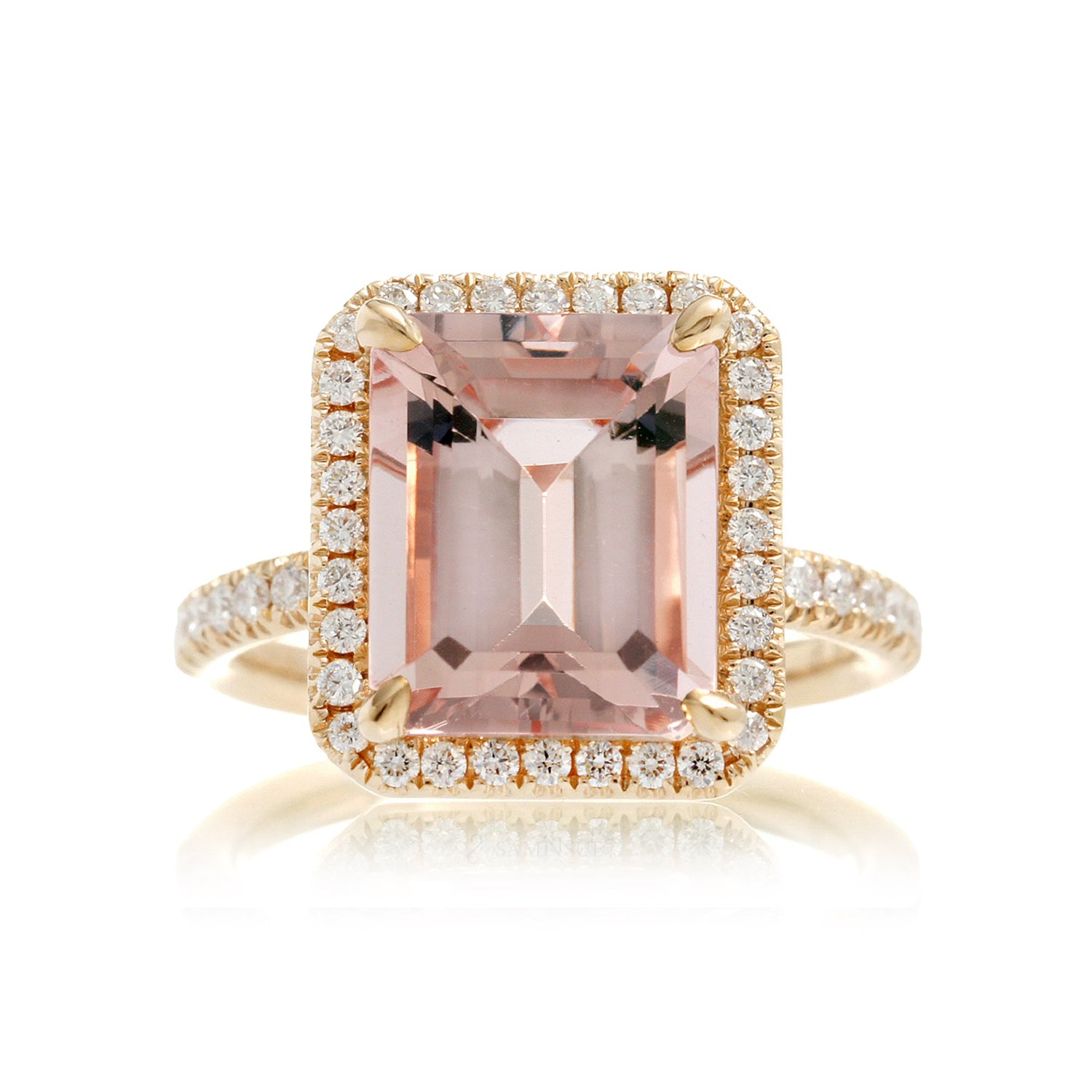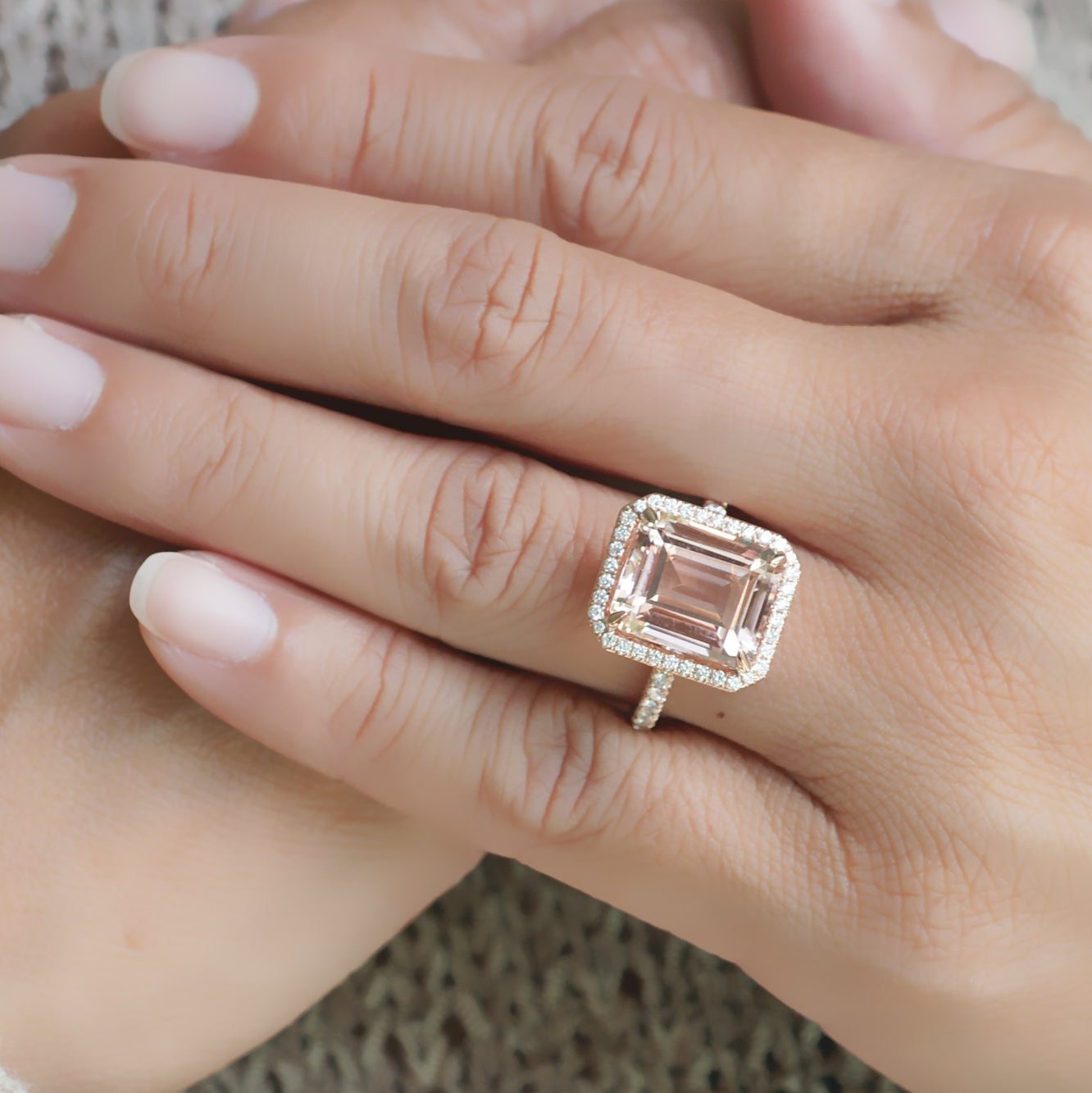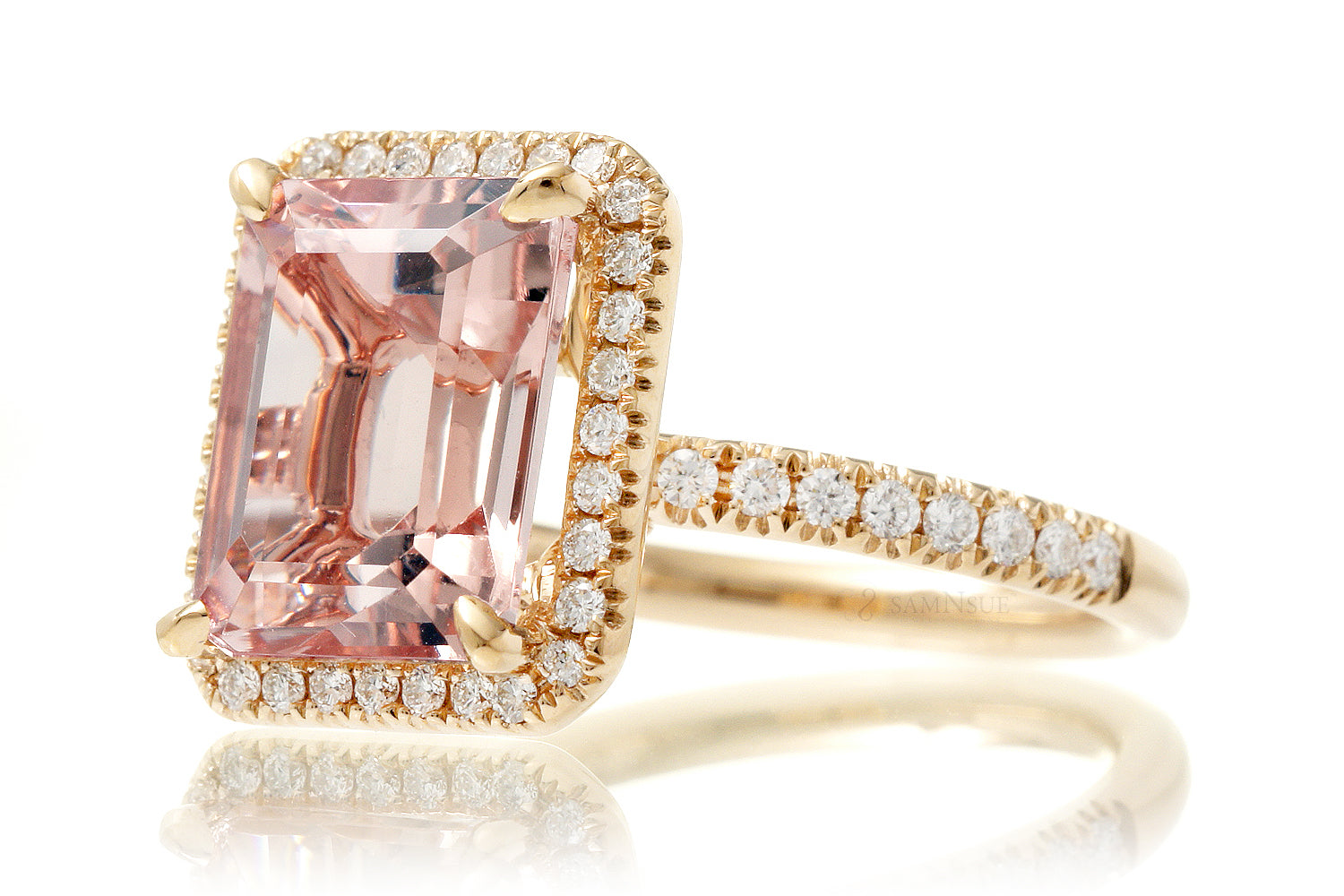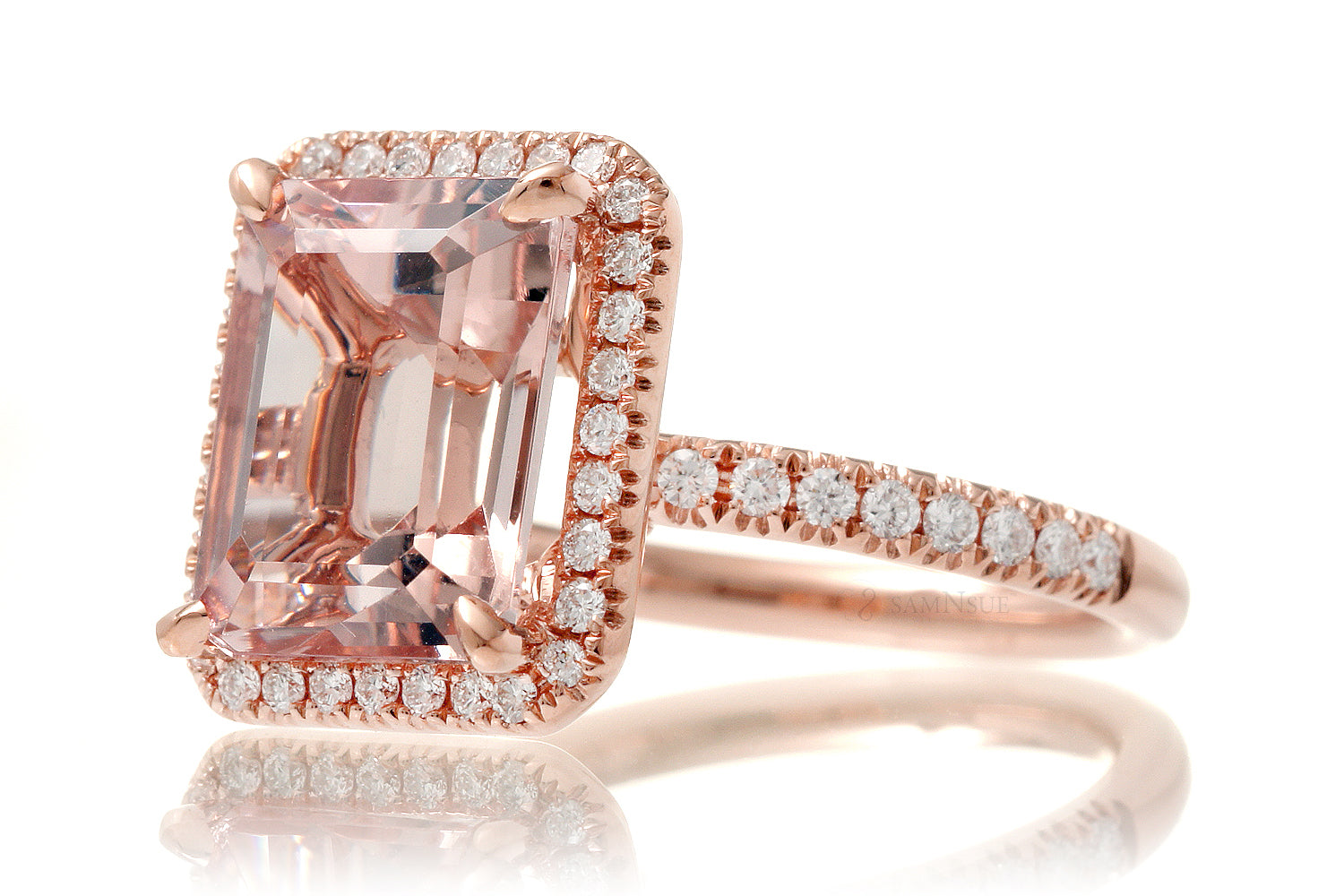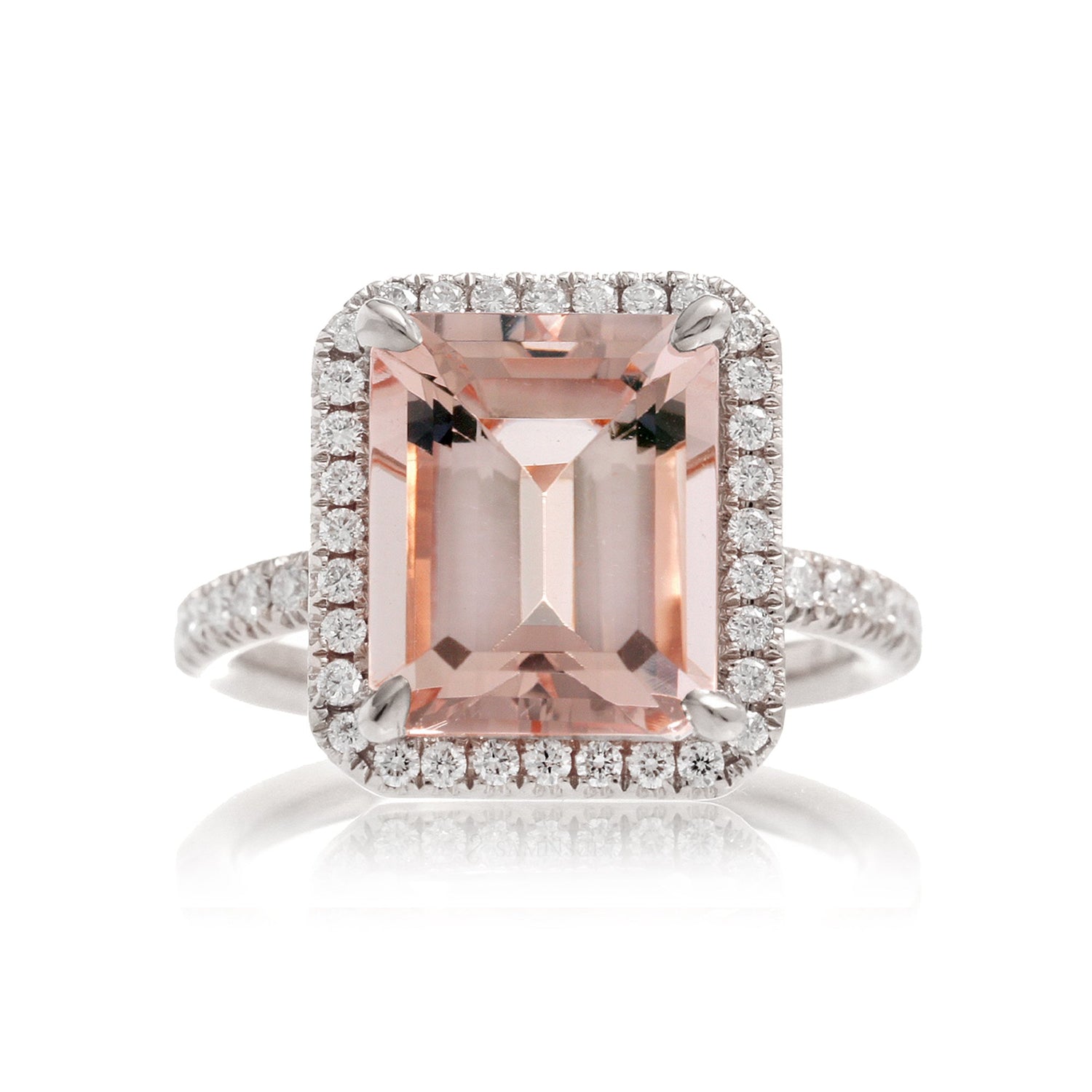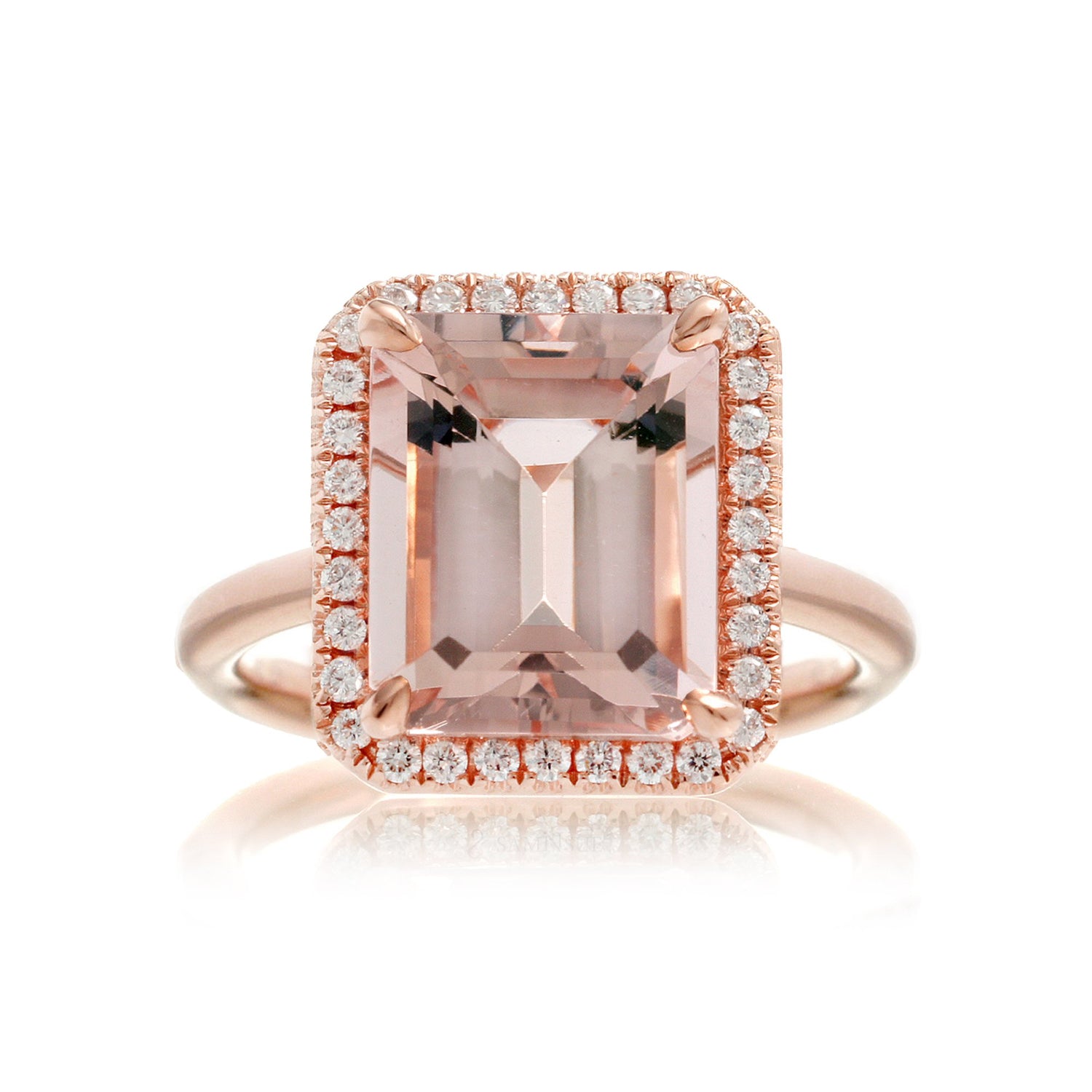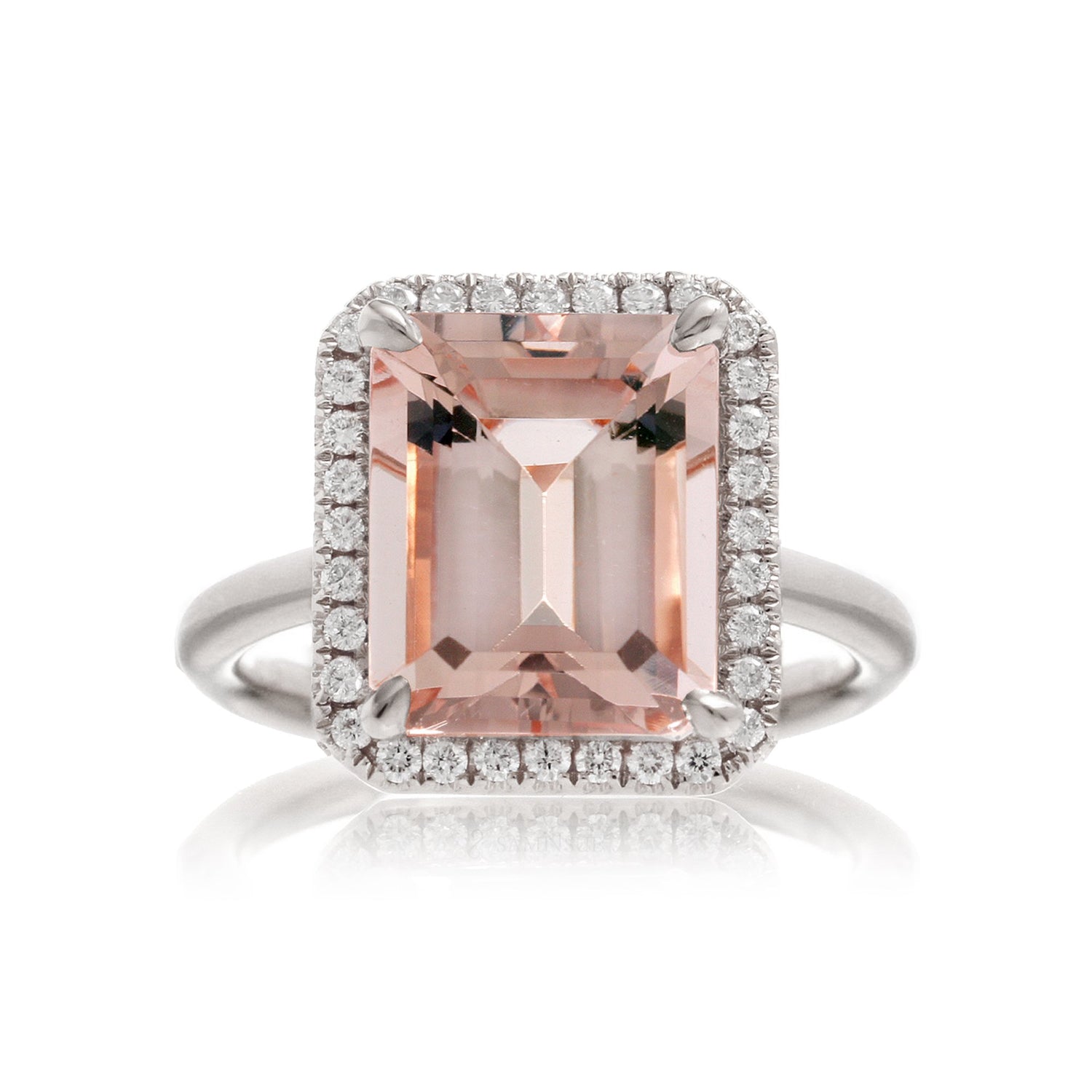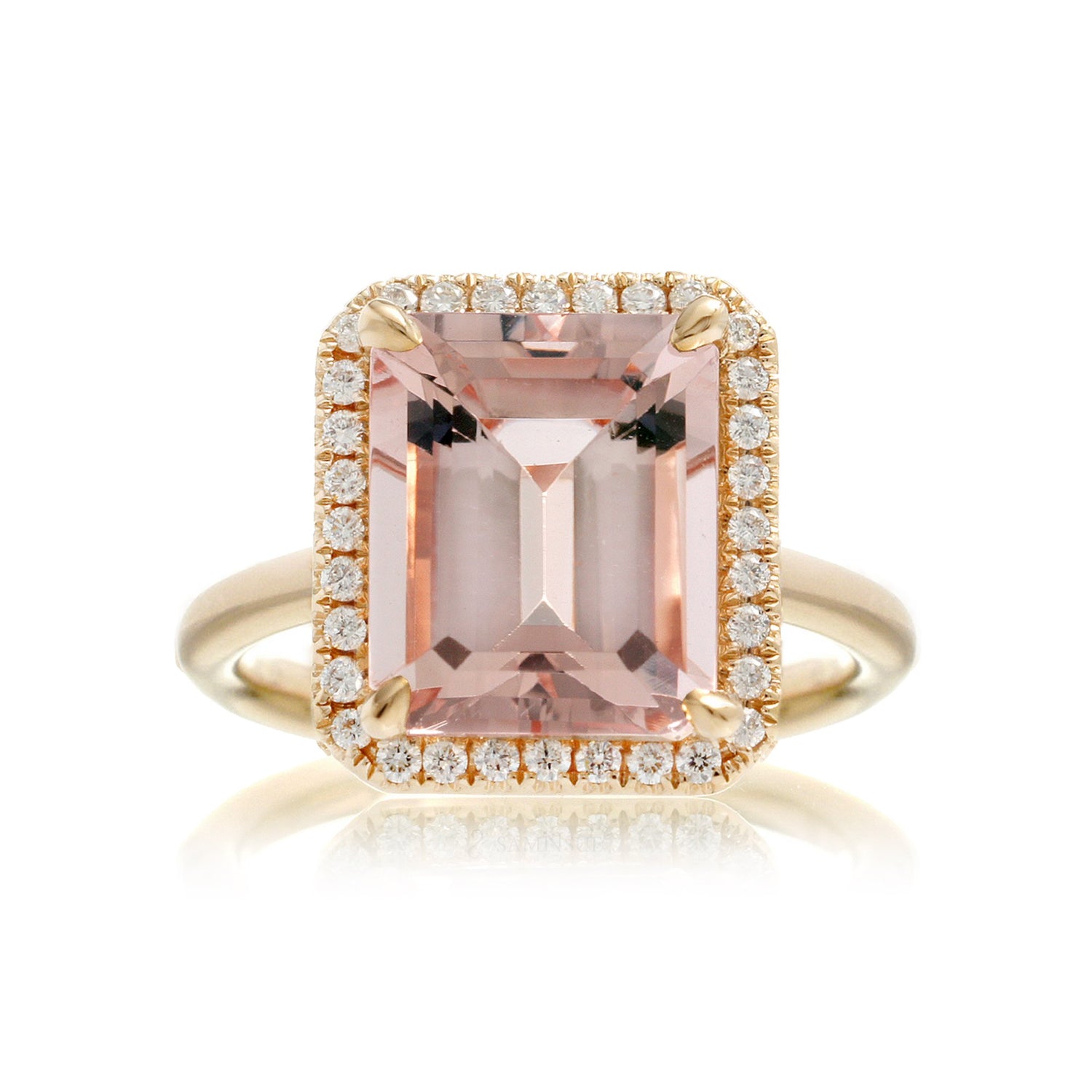 ---
The Drenched ring features pavé-set diamond. Accenting the center gem with a diamond halo and diamonds half way down the band. This engagement ring will allow a curved customized matching band (sold separately) to sit flush.
More facts about morganites
Frequently Asked Questions
Morganites are generally stable and do not lose their color over time under normal conditions. They are a durable gemstone with good resistance to fading. However, it's important to note that prolonged exposure to direct sunlight or excessive heat can potentially cause some color change in morganite over an extended period.

Like many gemstones, morganite can be affected by certain chemicals and harsh cleaning agents. To preserve the color and overall appearance of your morganite jewelry, it's best to avoid exposing it to harsh chemicals, such as bleach or sulfuric acid, and to remove your jewelry before engaging in activities that may expose it to potential damage.
Morganite, like any other gemstone, can accumulate dirt and debris over time with regular wear. However, it is not particularly prone to getting dirty compared to other gemstones. The ease of keeping morganite clean depends on various factors, such as the jewelry setting, the wearer's activities, and the care taken to maintain the gemstone.

Morganite in rings, which are commonly worn on the hands, can come into contact with oils, lotions, and other substances that might lead to a buildup of dirt. Likewise, if worn during activities that involve exposure to dirt or chemicals, the gemstone may become dirty.
Whether a morganite engagement ring is considered tacky or not is a subjective opinion and varies from person to person. Some people adore the soft and romantic hues of morganite and find it to be a unique and beautiful choice for an engagement ring. Others may prefer traditional diamond rings or gemstones with more well-established associations.

Ultimately, the choice of an engagement ring should reflect the preferences and style of the individual or couple involved. What matters most is the sentiment and meaning behind the ring, as it symbolizes the love and commitment shared between two people.
As of September 2021, the primary sources of high-quality morganite gemstones were mined from several countries, with the most notable ones being:

Brazil: Brazil is one of the major sources of morganite. The country produces large, high-quality stones with vibrant pink to peach colors.
Madagascar: Madagascar is another significant supplier of morganite. The stones from this region often exhibit a delicate pink color and excellent clarity.
Afghanistan: Afghanistan has also been a notable source of morganite, known for producing gem-quality stones with desirable hues.
Mozambique: Mozambique is a relatively newer source of morganite, but it has gained popularity for its high-quality gems.

It's essential to note that gemstone availability can change over time due to mining activities, new discoveries, and other factors. As the gem market evolves, new sources may emerge or become more prominent. For the latest information on morganite sources, it's best to consult with reputable jewelers or gemstone experts who are up-to-date with the current market trends.
Morganites pair beautifully with various metals, but certain ones tend to enhance the gemstone's soft and romantic hues more effectively. Here are some popular metal options that complement morganite:

Rose Gold: Rose gold is an especially popular choice for morganite jewelry. Its warm, pinkish hue harmonizes perfectly with the peachy-pink tones of morganite, creating a romantic and feminine combination.
Yellow Gold: Yellow gold is a classic and timeless choice that complements the soft, warm color of morganite. The combination of yellow gold and morganite creates an elegant and sophisticated look.
White Gold: White gold provides a sleek and modern backdrop for morganite, allowing the gemstone's pinkish tones to stand out beautifully. It offers a fresh and contemporary appearance.
Platinum: Platinum is a durable and lustrous metal that pairs well with morganite. Its white, silvery sheen offers a sophisticated and elegant setting for the gemstone.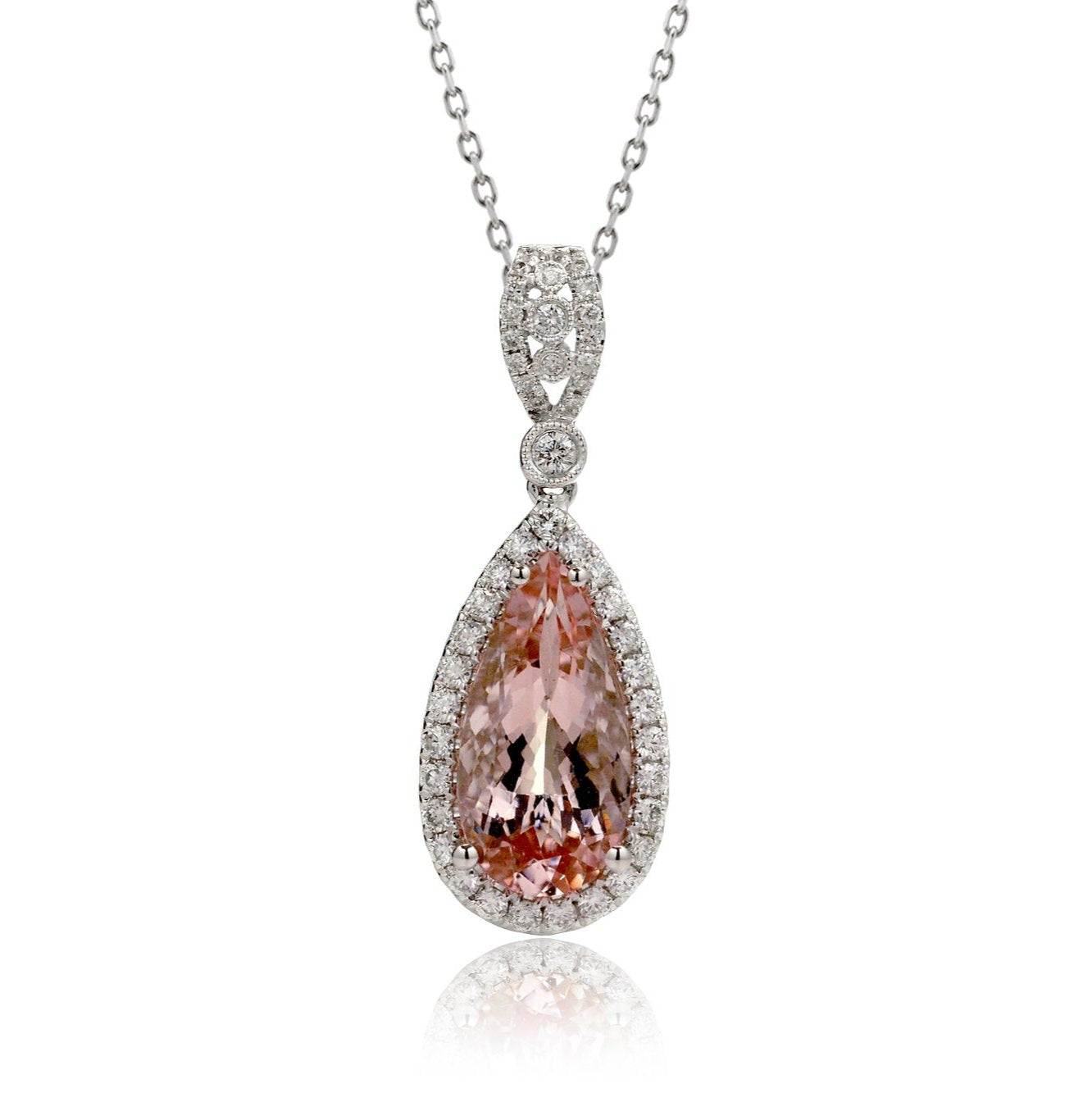 Morganite Jewelry
Unique and elegant
This pear morganite pendant is an elegant piece of jewelry, featuring a unique 12x8mm pear-shaped pink morganite in fine color, accentuated by 1/2 carat diamond and a 3.76 carat morganite. Crafted with a classy and elongated pear, this pendant is also strong and heavy.
Featured collection
Morganite Engagement Rings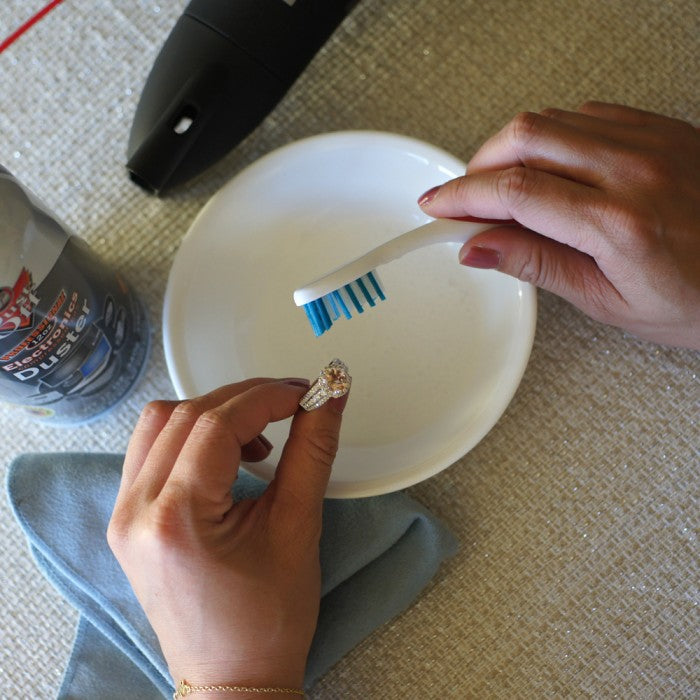 How to clean Morganite jewelry
How to clean your Morganites   Morganites and Aquamarines. Gemstones are major oil magnets and attracts any kind of soaps and oils then dries up and builds up all over again. So it's important to a...
Read more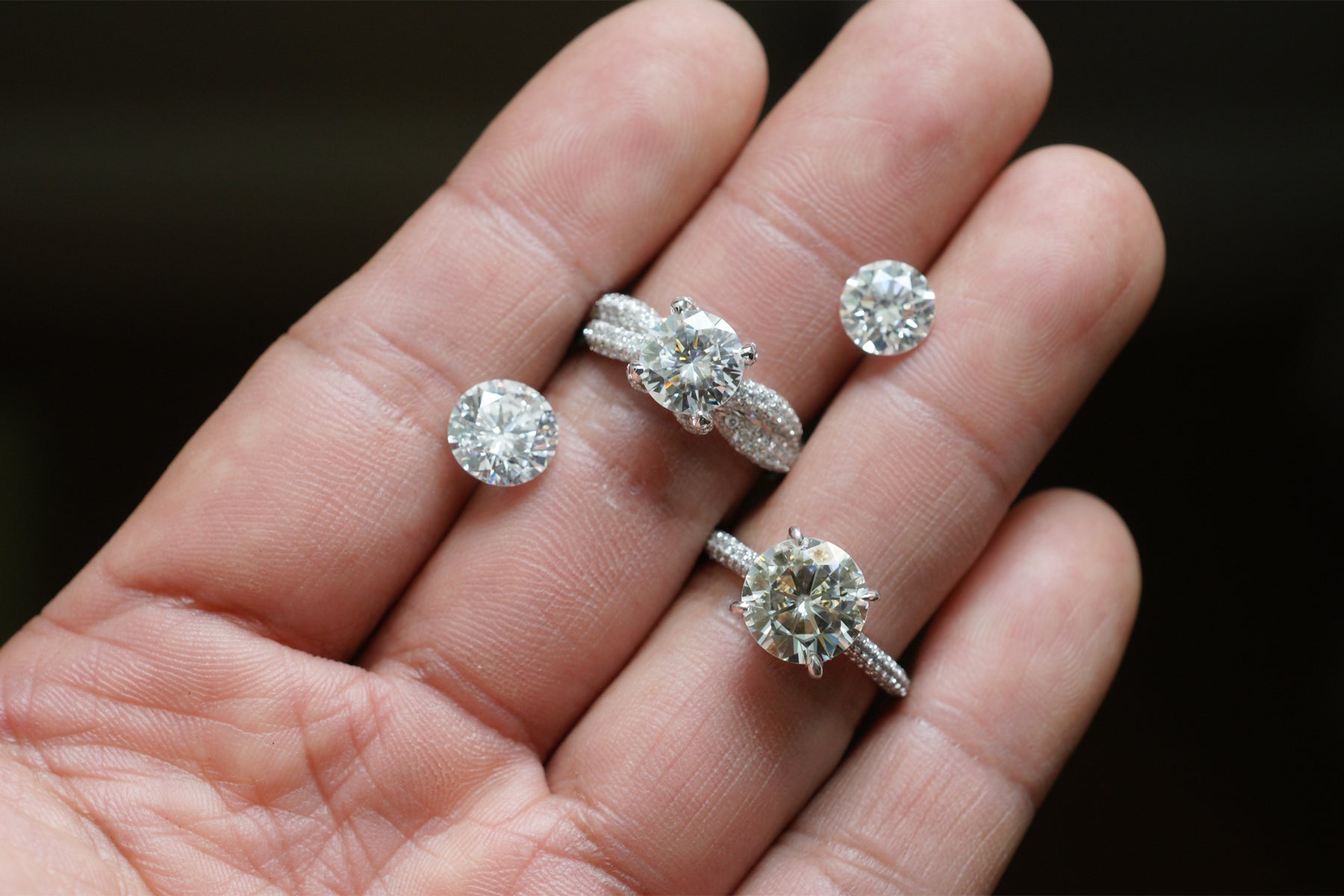 Moissanites are incredibly sparkly and remarkably similar to how diamonds look. With the cost of moissanites being a fraction of the cost of diamonds, we will help you choose which suit you best. R...
Read more